"A place where no Senior will ever walk alone"
HEALTH AND WELLNESS
Program 17
"Keep a sense of happiness and satisfaction"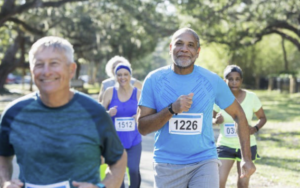 It's a fact, we will all age and we all have people in our lives that are ageing: parents, grandparents, and friends. Most of us wish to retain our wellbeing and autonomy physically and mentally – to remain in our homes, in our communities. Within widely varied social, economic and cultural contexts, how can we help people understand their options, make informed decisions and activate themselves towards a state of wellbeing as they grow older? How can we help people thrive and live the lives they wish to live as they age? 
Some questions we are pondering: 
How can SOSOPWORLD help people transition successfully from full time work to retirement?

 

How do we provide support and services to people who serve as caregivers for older adults?

 

What tools might help people plan for their financial transitions and the potential stresses associated with ageing?

 
"Click here for Professional Help and support" 
GROWING OLD, REMAINING INDEPENDENT 
We all need to understand that ageing need not be a slow-motion series of unpleasant experiences culminating in a nursing home. People remain active and are able to live the lives they wish to live not necessarily because they don't suffer from disease or illness, but rather because they are able to accomplish the activities of daily life. This leads to a sense of happiness and satisfaction. In contrast, the loss of independence – due to multiple chronic conditions, restriction of physical functions, or lack of access to suitable housing, food and resources – can lead to significant dissatisfaction.  
What economic, cultural, social or environmental levers can we pull to help people have a happy and satisfying experience as they age?

 
Are there products or services that might help people remain healthy and dependent as they age?

 

How might we help families and caregivers work with ageing adults to make informed choices about the future and understand the financial impact of their choices?

 

How might we improve access to government and community services that can help people experience healthy ageing and independent living?

 
"Click here for Professional Help and support" 
Leading healthy lives – physically, mentally, emotionally and even spiritually – can greatly impact how well we age. Whether it is access to great physicians in our community or our ability to visit local parks or culture, health is a direct determinant of our ageing process.  
How might we design with holistic health in mind?

 

Be confident you have the right doctor. When you have a chronic illness, your relationship with your doctor is second only to your spouse or your parents. Being honest (and you must be honest!) with that person means you need to be able to trust them to hear you. If you don't have that kind of relationship, get a second opinion. Shop around.

 

Define your circle of support carefully. Isolation leads to depression, and it is so easy to isolate when you feel lower then dirt. People may surprise you. Peripheral friends may step up and be terrific supports, while others you thought you could count on can't be there for you. If someone inside the circle asks, "How are you?" – tell them the truth. When someone outside the circle asks you the same question, lie. Say, "I'm fine!" and change the subject. Too often they can't handle the truth and they suck any energy you have taking care of them. If someone asks if they can help, say yes. Accepting help is a gift to them. Trust that someday you will be on the giving end. One big way someone can help is to go to doctor's visits with you. The extra eyes and ears take the pressure off you when the news is emotionally laden and important, even if the news is good!

 

Protect your health like you protected your children. You are more than your illness. That part of you that functions well needs you to advocate for it. Of course, there are the basics of getting plenty of sleep, exercise and eating smart. In addition to all that, I suggest learning a new set of signals that are your clues for when you're wearing your health thin. When those yellow lights are blinking, it's time for you to stop, assess and make changes. When you ignored those signals in the past, you relapsed. Looking back now you can see where you ran the red lights. So be a fierce protector of your health. Set limits and find the courage to say 'No'!"

 
Create a new measuring stick. All of your self-esteem lies in the standards with which you measure yourself as you go through life. To thrive with chronic illness, throw out the old and rethink your standards. If you are used to defining yourself by your 50-hour work week, for instance, you may feel lousy about yourself because now you can't manage it. But finding a new standard can be tough. "One technique would be to ask ourselves what is reasonable. This is where a lot of courage is needed to address old pressures in a certain way, and to imagine value in doing things differently.

 

Have dreams and strive for them. You had ambitions to get a degree, start a new hobby or to see the world or maybe even save it. Now you're thinking do I have to give up my dreams? No, you don't. It's imperative for your spirit that you have goals for living, big and small. "Chronic illness can change our path and timing, but as we keep reaching for the stars, let's step back and appreciate the ground we're standing on. Mindfulness has a real place in keeping depression at bay for everyone. Sometimes our dreams are right before our eyes."

 
"Click here for Professional Help and support" 
"If it takes a village to raise a child, then it must take a nation to support a senior." 
WITH RESPECT 
THE SOSOPWORLD TEAM